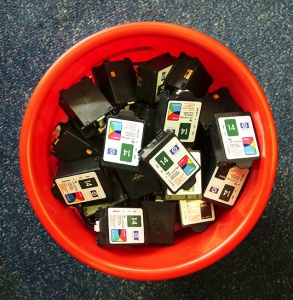 Did you know you can raise money for your school by collecting and recycling ink cartridges?
This week we are highlighting the Ink Bin website to help you find a new way to raise funds and increase reuse at your school.
Every year millions of ink cartridges are thrown away in the UK, yet many brands of ink cartridges can be cleaned, refilled and resold.  These reused cartridges can produce the same high quality prints, meaning they are just as good as new ones, but use less valuable resources: such as the oil used to make the plastic cartridge.
By choosing to buy refilled ink cartridges you can save money and contribute to creating a more circular economy.
For more information visit The Ink Bin website.
For more fundraising ideas for schools visit our fundraising pages.
DISCLAIMER
This information has been made available for general information purposes which may assist schools who are looking to find new ways to raise funds through recycling and reuse initiatives.
Please be aware that no due diligence, risk assessments or other vetting or selection procedures have been undertaken on The Ink Bin or its services.
The Waste Education Team cannot accept any liability or responsibility whatsoever for any loss or damage suffered by any organisation resulting from their use of the information contained on this webpage or any services performed by The Ink Bin.  Organisations contemplating engaging The Ink Bin services are encouraged to first undertake their own due diligence and risk and health & safety assessments.
Information held about supplier on this webpage does not imply an endorsement of that supplier or its services by the Waste Education Team.  Likewise no inferences should be made about suppliers who are not featured on this webpage.  A link to an external website does not imply an endorsement of that website, and the Waste Education Team are not responsible or liable in any way for the contents, accuracy or reliability of external websites.