How to Reduce Glass at Home
Zero waste shops are a great way to reduce your overall waste, including glass. Customers can bring in refillable containers, including jars or lunch boxes, to refill a wide variety of products both wet and dry eg. pasta and washing up liquids. Here are some of the zero waste shops in Devon.
Jars – To avoid purchasing items such as mason jars for drinks glasses, why not wash out and reuse your old food jars.
Reusable bottles/cups can be a great way to reduce your use of glass overall, rather than purchasing new drinks in disposable bottles.
Why not take a look at ways to reuse glass at home and how to recycle glass.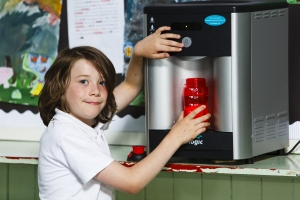 How to Reduce Glass at School
It might be a good idea to rethink the school's glass resource use – many schools will be doing this already, as saving resources usually saves money! Reducing waste overall can help to reduce costs to schools from waste collection. Audit the types of glass you use and how much you buy each week. Are there ways to reduce the glass resource use in school?
For example, ensuring glass is stored correctly and safely to avoid breakages.
Have a look at our page on how to reuse glass in schools and how to recycle glass.
Why not share your ideas and successes with us?