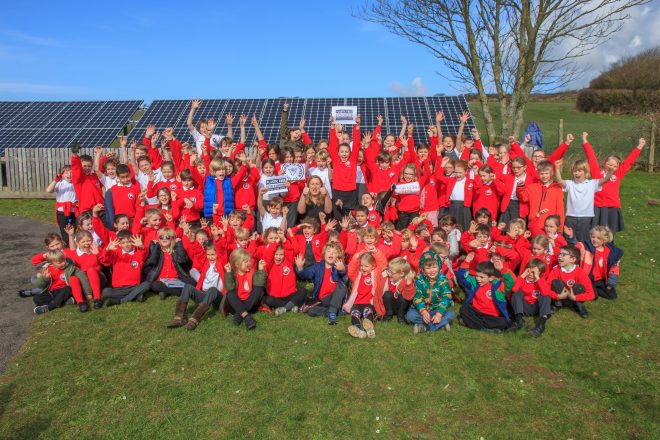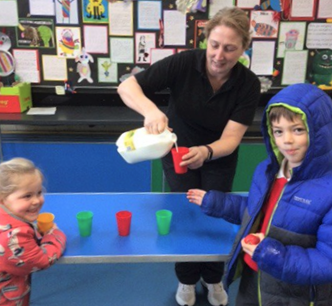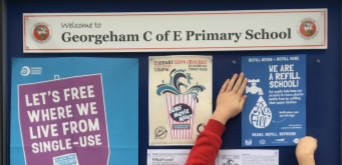 Achieved Plastic Free School Status! Georgeham CofE Primary School has become the first to achieve the Surfers Against Sewage Plastic Free Schools Status in the UK. Keri Lambert, the catering manager, motivated the school to achieve this by:
Firstly, looking at what plastics were in and around the school that weren't necessary, and then think of ways to replace them.
Swapping cling film with foil in the school canteen.
Replacing sauce sachets with larger sauce bottles with pumps.
Milk, previously provided daily to each Reception class pupil in a small non-recyclable carton with a plastic straw and wrapper, is now delivered to the school in 2-litre recyclable bottles and served in washable beakers. This has avoided 3,900 waste cartons, straws and straw wrappers every year.
Individually packaged ice-creams replaced with Arctic Role in recyclable packaging.
Supplier of fruit and vegetables now takes back the plastic packaging for recycling.
These measures have not cost any extra and are actually saving the school money!
The school also brought the problem of single use plastic to the attention of Devon County Council as they presented some findings to the Council in 2017. Two students and their teacher came to a Cabinet meeting on Wednesday 8th November 2017. They did a great job and in response, DCC created a strategy and action plan to address the use of single use plastics on DCC premises and with wider partners.
https://devoncc.public-i.tv/core/portal/webcast_interactive/302024/start_time/4551000
Below are the minutes that came as a result of the meeting …..
Minutes of Cabinet,  Wednesday, 8th November, 2017 10.30 am Plastic Free Coastlines
(Councillor Biederman attended in accordance with Standing Order 8 and Councillors Connett, Dewhirst and Hannaford in accordance with Standing Order 25(2) and spoke to this item).
(Representatives from Georgeham Primary School were invited to speak at the invitation of the Committee and in the spirit of the Council's Public Participation Rules).
Max: Plastic is an issue and we find a lot of it on our beaches.
Jess: We've helped out with beach cleans before and we've filled a lot of bin liners with rubbish.
Max: When we walk our dog, he always brings us a plastic thing in his mouth to play with.
Jess: I've seen a dead seagull before and it was a horrible sight – it was all open and I could see it had eaten lots of rope and fishing nets which probably caused its death.
Mr Thomas:
Surfers Against Sewage is a leading environmental charity that's been active for more than 25 years.
Their campaign entitled, 'Break The Bag Habit,' was mentioned in the Queen's speech in 2014, which resulted in 6 million fewer bags being issued in the 12 months following the 5p charge.
Their latest initiative is about Plastic Free Coastlines and you may have heard about how important this is through David Attenborough's latest TV programme, or Michael Gove's views on the bottle deposit scheme.
A bottle will last for more than 400 years and once broken down into micro-plastic pieces, will enter the food chain.  There's no escaping the fact that plastic effects the marine environment and that micro-plastics have a detrimental impact on the animals that live in it and the food we eat.
We are the first school to represent Surfers Against Sewage in their Beach Reps programme and as such, we hope to educate, lead by example and also support beach cleaning initiatives.
Max: At school, our kitchen is reducing packaging and they are stopping using single-use sauce sachets.  We also re-use yoghurt pots for the little kids' craft lessons.
Jess: We know that children use refillable bottles and every tap in school is for drinking water.
Mr Thomas: There were over 400 Beach Cleans throughout the country over the ½ term break…
Surfers against Sewage has calculated that 35 tonnes of rubbish was collected
and that 11,000 single-use plastic bottles was amongst this.
Cleaning up is costly… but it's also purely cosmetic.
The steering group I'm part of has organised a launch evening for local businesses up in Braunton in North Devon, where we'll share some easy steps to becoming plastic-free and to draw up action plans to support them in reducing their reliance on plastic and to look for, and use, alternatives.
There are over 100 Community Leaders like myself, signed up to volunteer for the Surfers Against Sewage Charity.
They have supported four motions, similar to the one you have in front of you, and all four have been passed…  they've been in
Bideford Town
Torridge District
Aberystwyth Town
Brighton & Hove City
The Motion that Cllr Biederman is proposing is excellent, and the children would appreciate if you could…

Pass it
Encourage and promote plastic free initiatives in the South West
Reduce or remove single-use plastics from DCC premises
And to consider an audit perhaps in 6 months time, to measure progress.
Jess: We really hope that when we're your age, there is a lot less plastic in the environment.
Max: And that we're using better ways to throw away our rubbish.
'This Devon County Council supports Plastic Free Coastlines, committing to plastic free alternatives and supporting plastic free initiatives within Devon. The Council commits to lead by example to remove single-use plastic items from its premises. Also it must encourage plastic free initiatives, promoting the campaign and supporting its events.
A representative of this Council will become a member of the Plastic Free Coastlines Steering group'.
The Mover of the Notice of Motion (wording of Motion outlined above) having spoken seeking the Cabinet's support for the course of action originally proposed, the relevant Officer's factual briefing/position statement on the matter, the relevant Cabinet Members' willingness to endorse the underlying principles therein and their support for the recommendation now before the Cabinet, representations previously made and to actions now proposed or already undertaken and any other relevant factors (e.g. public health, financial, environmental, risk management and equality and legal considerations and Public Health impact) and the Cabinet Members agreeing to undertake an audit of the situation in six – nine months:
It was MOVED by Councillor Croad, SECONDED by Councillor Hart, and RESOLVED that the Council be recommended to:
i)              support the spirit of the Notice of Motion, which aims to provide leadership in avoiding single-use plastic items in order to achieve a 'Plastic Free Coastline'; and
ii)             commit to addressing this issue further through this Authority's environmental performance agenda, including a review of single-use plastic items and how suitable alternatives to these might continue to be adopted.