What are the benefits of recycling batteries?
Saving valuable resources – batteries contain many different metals and chemicals which have been mined and transported from all over the planet. By recycling batteries these valuable resources can be used over and over again.
Preventing pollution – if batteries are not disposed of properly then the harmful chemicals inside them can leak out and damage the environment.
Wow fact: In the UK, we throw away over 600 million batteries every year.
How are batteries recycled?
Batteries are sometimes collected from your recycling bin, box or bag and often collected at supermarkets.
Then they are taken to a recycling plant where they are sorted according to which chemicals they are made from.
Batteries are then heated to 1,000°C in a furnace to extract the valuable metals.
The valuable core of the battery is then taken out in a complicated chemical process.
The valuable cores will be used to make many new objects.
The steel casing of the battery is taken to a steel plant and recycled.
Where can I recycle my batteries?
Mid Devon, East Devon, Teignbridge, Torbay and West Devon councils all collect batteries from your recycling bin or box, as long as they are in a separate plastic bag.
If you don't live in one of these areas you can take your batteries to local supermarkets for collection.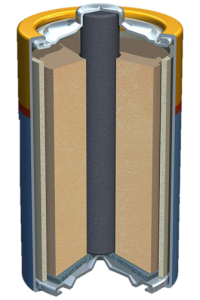 1
Lithium Cobalt positive electrode (cathode)
3
Carbon & manganese mixture
4
Graphite negative electrode (anode)
What are batteries made from?
A modern disposable battery commonly contains zinc, manganese dioxide and an alkaline solution
A modern rechargeable battery contains different elements… Hover on the image to the left to discover what minerals are within a lithium ion battery, vital in powering our technology, smartphones and electric cars.
This page will explore the sources of two of the essential elements within a lithium ion battery, including the social and environmental consequences facing the countries they come from.