A quick glance at any packaging can leave us bewildered by the array of logos and symbols trying to tell us what our packaging is made from and what to do with it when we have finished with it.
Print out the worksheet and challenge your children to do our Packaging Symbol Sudoku.  Once they have completed the puzzle look for the symbols on everyday packaging.  You could also follow the links in the worksheet to find out how you recycle these common packaging materials in your area.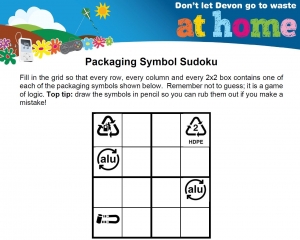 Download the worksheet:Recycling Symbol Sudoku #1
Download the answer sheet: Recycling Symbol Sudoku #1 Answer sheet
There are lots more packaging symbols and we plan to publish another Sudoku in the coming weeks!