What is Aluminium?
Aluminium is extracted via the Bayer process (a type of special electrolysis) from bauxite, a red sedimentary rock common around the world. Guinea (West Africa) and Australia have the two largest reserves of this mineral.
Aluminium is a very good conductor of heat and electricity. It is light but also strong. It can be hammered into sheets or pulled out into wires. It is a highly reactive metal, however it is resistant to corrosion.
Many things are made of aluminium including overhead power lines,  window frames and aircraft bodies. You might also find it in your home as saucepans, soft drink cans, and cooking foil.
Resource Limits
Demand for aluminium is currently high, but it is a very common element on Earth. Reserves of bauxite (what is left underground) are currently estimated to be between 40 to 75 billion metric tons, and so could last for centuries.
Find below a map of the world where the main countries producing bauxite each year are found.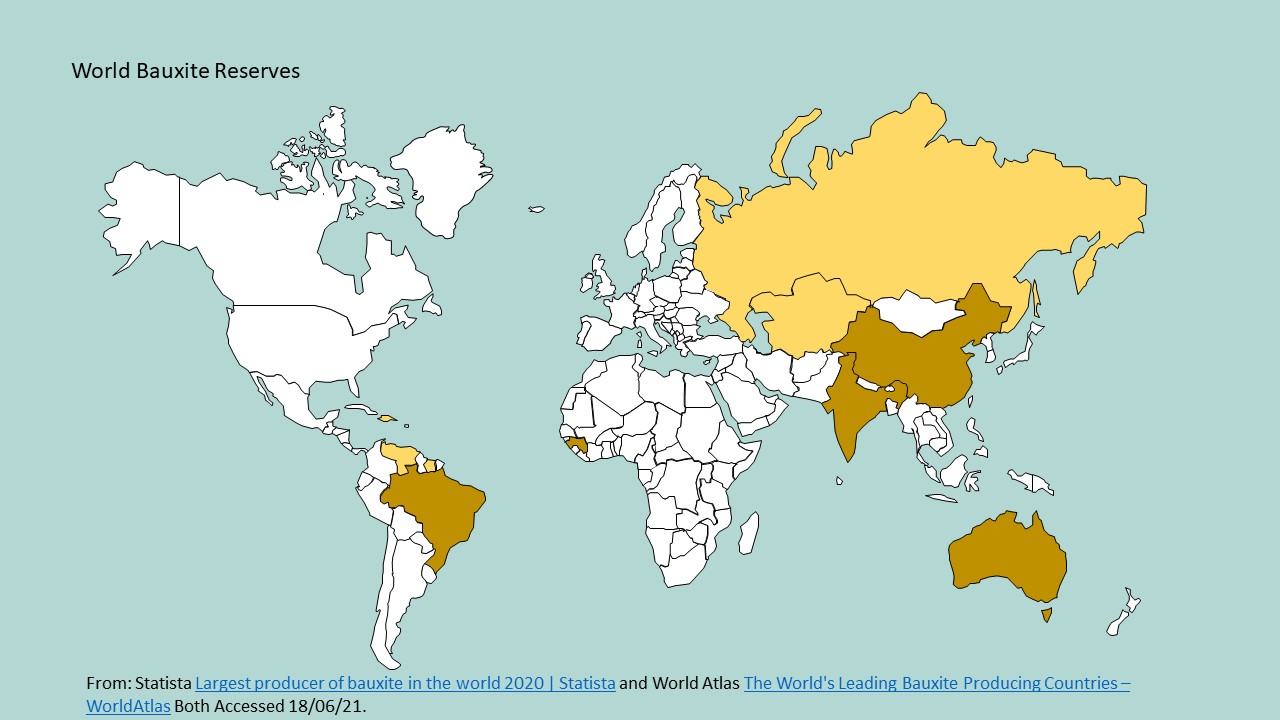 1
Australia is the biggest bauxite producer in the world today. It produces about 81,000 metric tons of bauxite each year.
2
Second is China with about 47,000 metric tons of bauxite production annually. With its reserves depleted China now imports bauxite from India, Australia and Malaysia.
3
Third is Brazil with 32,500 metric tons of bauxite production every year.
4
The fourth biggest producer of bauxite is Guinea with 19,300 metric tons of bauxite production annually. Guinea has the biggest bauxite deposits in the world, but has no refineries and all the mines are owned by foreign companies.
5
Number five is India with 19,000 metric tons per year.
6
Jamaica produces 9,800 metric tons per year.
7
Kazakhstan produces 5,500 metric tons per year.
8
Russia produces 5,300 metric tons.
9
Suriname produces 3,270 metric tons.
10
Venezuela produces 2,200 metric tons.