Steel  is a mixture of several metals (this is called an alloy). It is made from iron and carbon heated at high temperatures using a type of coal called coke.
Steel is harder and stronger than iron.
Steel is used to make tools, machines, motors, wires, rails for trains, cutlery, trains, cars, bridges, buildings and more.
Find out in the videos below how iron is extracted from the ground and then turned into the material we use every day in steel cans.
Resource Limits
The raw materials of steel are iron ore and carbon, plus some other metals. There is an almost inexhaustible amount of this resource left in the ground, as iron is the fourth most common element on Earth.
Find below a map of the world where the main reserves of iron ore are found.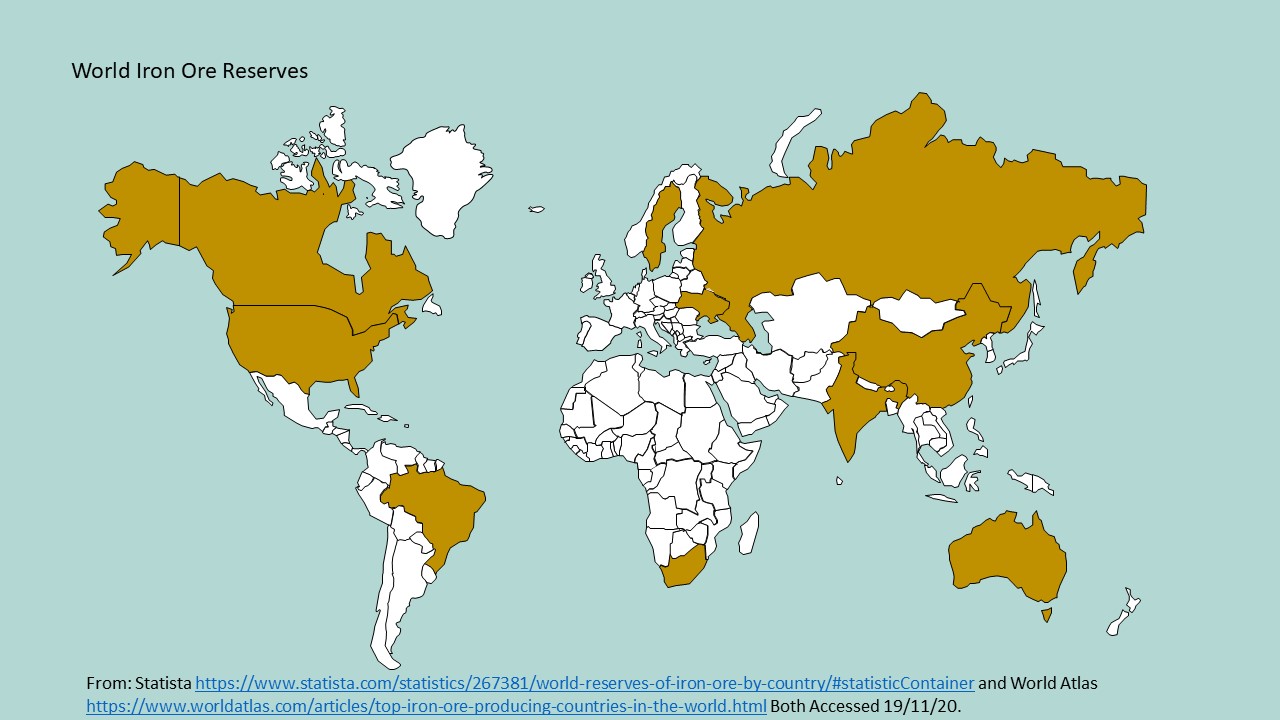 1
China is by far and away the largest producer, consumer, and importer of Iron ore. About 1.3 billion tons of iron ore  (44% of the world's output) is mined each year, mainly in Hebei and Liaoning provinces of mainland China.
2
Australia makes up half of the world's iron ore exports.
3
In 2019 Brazil had reserves of 15 billion metric tons of iron content and 29 billion metric tons of crude ore. Brazil produced 480 million metric tons of iron ore in 2019.
4
India is the fourth largest producer. The biggest deposits are in Orissa state. In 2015, India produced 129 million tons.
5
No. 5 is Russia: in 2015 it produced 112 million tons of crude iron ore. Most of the country's iron ore is found in Central Russia, and the rest comes from Siberia and the Urals.
6
Other countries with large deposits of iron ore are Sweden, Ukraine, South Africa, USA and Canada.